If you are considering custom paint for outboard engines, you have come to the right place. Nothing makes your boat look better than a custom paint job on the outboard engines. Tampa Bay boat owners in St. Petersburg, Clearwater, Largo and the rest of Tampa Bay have been using Gulf Coast Custom Yachts for boat customization and fiberglass repairs for years. We get the job done and have the skilled team to deliver a high-quality job at a fair price.
Custom Outboard Engine Painting
If you want your outboard engines to be a perfect match for the hull of your boat, we can make that happen. Or perhaps you are looking for something really special in the way of a unique design on the engines. Custom outboard engine painting is one of our specialties and boat owners in Clearwater, St. Pete, and Tampa have been coming to us for years for our expertise in painting their outboard engines and boats.
Repainting and Custom Paint for Outboard Engines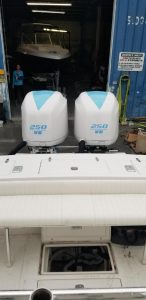 On the other hand, perhaps you want your existing outboard repainted to its original factory color with new manufacturer decals applied so the engine looks new again. Our custom paint for outboard engines will allow your boat to look like it did when it was brand new. If you have damage to the outboard engines cowling, we will repair that as well. This way, we can return the engine to its original manufacturer look.
As with all paint jobs, proper preparation is the first vital step in painting your outboard engines. We spend extra time on this step, so the final paint job will be flawless and last a long time. After the application of the paint, we follow it up with a protective clear coat. You can trust that the lead painter that will be painting your outboard has many years of experience and can deliver the best outboard engine custom paint job possible.
Call us today at (727) 422-BOAT or contact us online to get started.